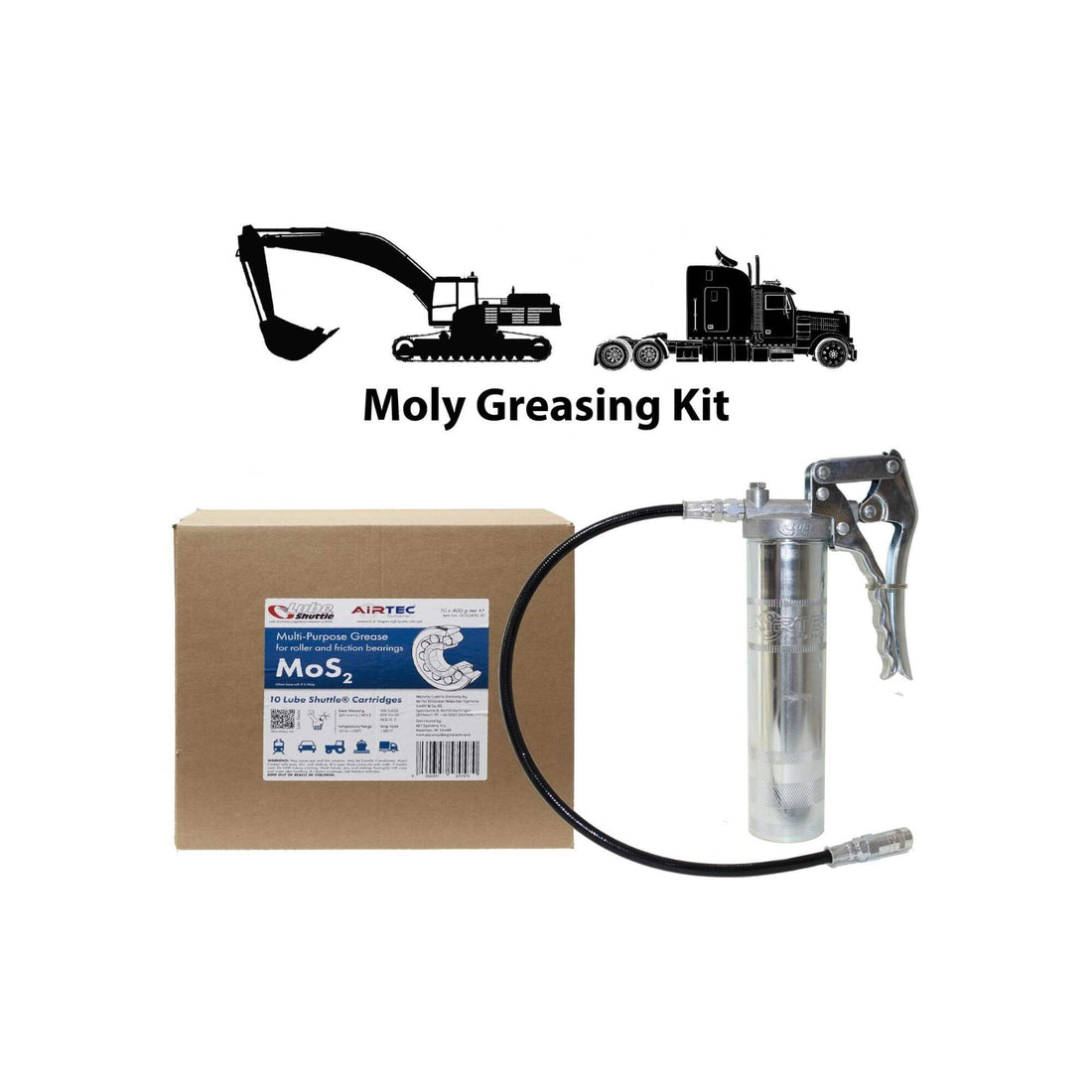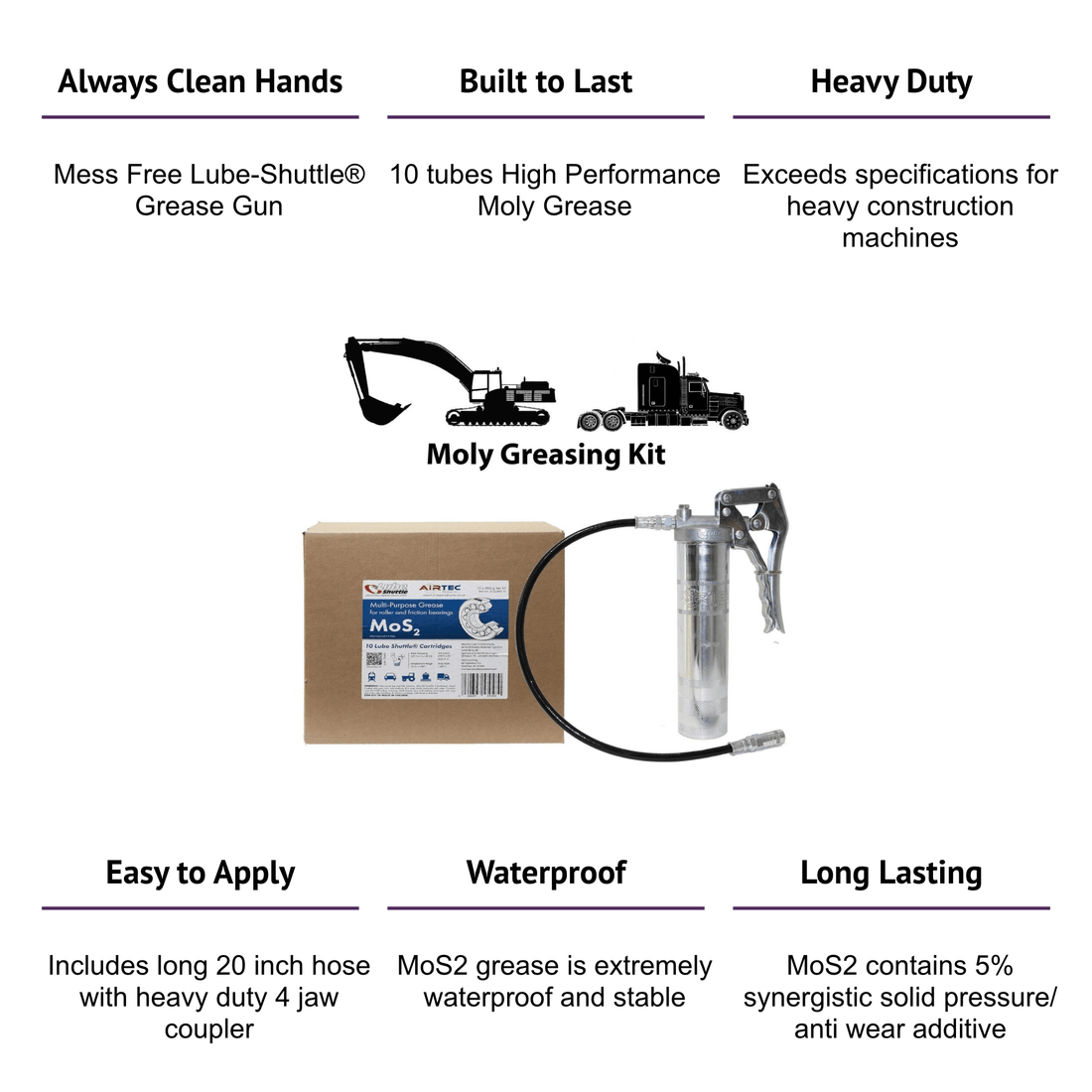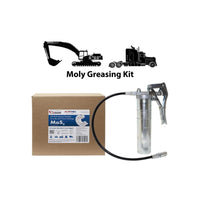 Lube-Shuttle®: Moly Greasing Kit
The Lube Shuttle® Moly Greasing Kit is perfect for tractors, loaders, backhoes, and high-pressure low-speed applications like pins and bushings, and slideways. 
Includes:
Lube Shuttle Pistol Grip Grease Gun: Air-Tec Lube-Shuttle® Pistol Grip Grease Guns are made of the highest quality steel tubes with corrosion-resistant zinc plating designed for Lube-Shuttle® System-Cartridges and feature an ergonomically designed pistol grip. This is the lightest and cleanest greasing system available, and yet its durability is sure to meet your highest standards! STOP getting full of grease and fighting gaps and leaking grease! Pressure capability of approx. 300 bar / 4,350 psi
10 Tubes of Air-Tec MoS2 High-Pressure Grease: Air-Tec MoS2 is a lithium-thickened, multi-purpose grease containing 3% molybdenum disulfide, which gives it excellent wear and pressure protection. This is grease is best used in high-stress friction bearings found in suspensions, heavy construction equipment, and industrial machines. In addition to the 3% moly it also contains corrosion inhibitors, polymers for better metal adhesion, and anti-oxidant additives that make it a great all-round grease for high wear and high-pressure situations.
Customer Reviews
11/01/2023
BRANDON B.

United States
Nice kit however it has not lived up to the hype, yet.
I sought out this product after having had "enough!" with a traditional grease gun. The concept makes sense, the special grease tubes are not readily available like the normal ones but the price is comparable so I just decided to buy several to have on hand. Out of the box this seemed like a dream. I had it loaded and primed without any effort at all or a single drop of grease spilled. No more messing with bleeding the pump head. Pulling the plunger rod back only to have grease squirt out the back of the thing all over the place and leaking grease juice all over everything in storage. In use I've found that it seems like the gun looses its prime and you can feel with each press of the handle the piston is not getting a full load of grease which has become a frustration. The hose, while appearing to be high quality and made in Germany, kinked easily when I was holding the tip onto the zerk fitting with one hand and rapidly pumping the handle with the other, awkwardly struggling to get grease to flow because with each pump it's just not picking up more grease reliably. Pushing on the follower inside the grease tube to give it some pressure seems to help but at a certain point it's too far up the tube to be able to push on anymore. I am still on my first tube of grease with this but so far it's not proven to be as easy as it looks online. If it would put out full bursts of grease with each pump and if the hose were a little more rugged I would be more impressed. I simply need to use it more before I have a final verdict on this product.