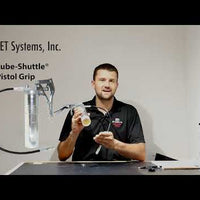 Lube-Shuttle®: Pistol Grip Grease Gun (Hose not Included)
The Pistol Grip Grease Gun of the Future! No mess, no waste, no headaches.
Air-Tec Lube-Shuttle® Pistol Grip Grease Guns are made of the highest quality steel tubes with corrosion-resistant zinc plating designed for Lube-Shuttle® System-Cartridges and feature an ergonomically designed pistol grip.
This is the lightest and cleanest greasing system available, and yet its durability is sure to meet your highest standards! Pressure capability of approx. 300 bar / 4,350 psi
Includes: - Lube-Shuttle® One Hand Grease Gun (pistol grip)
Advantages: - No need to take apart the grease gun, simply insert new cartridge - Type and quantity of grease can be seen at a glance - No wasted grease from air gaps or filling complications - Reusable and recyclable cartridges - No air release necessary!
ALL GREASE GUNS AND COMPONENTS ARE MADE IN GERMANY!