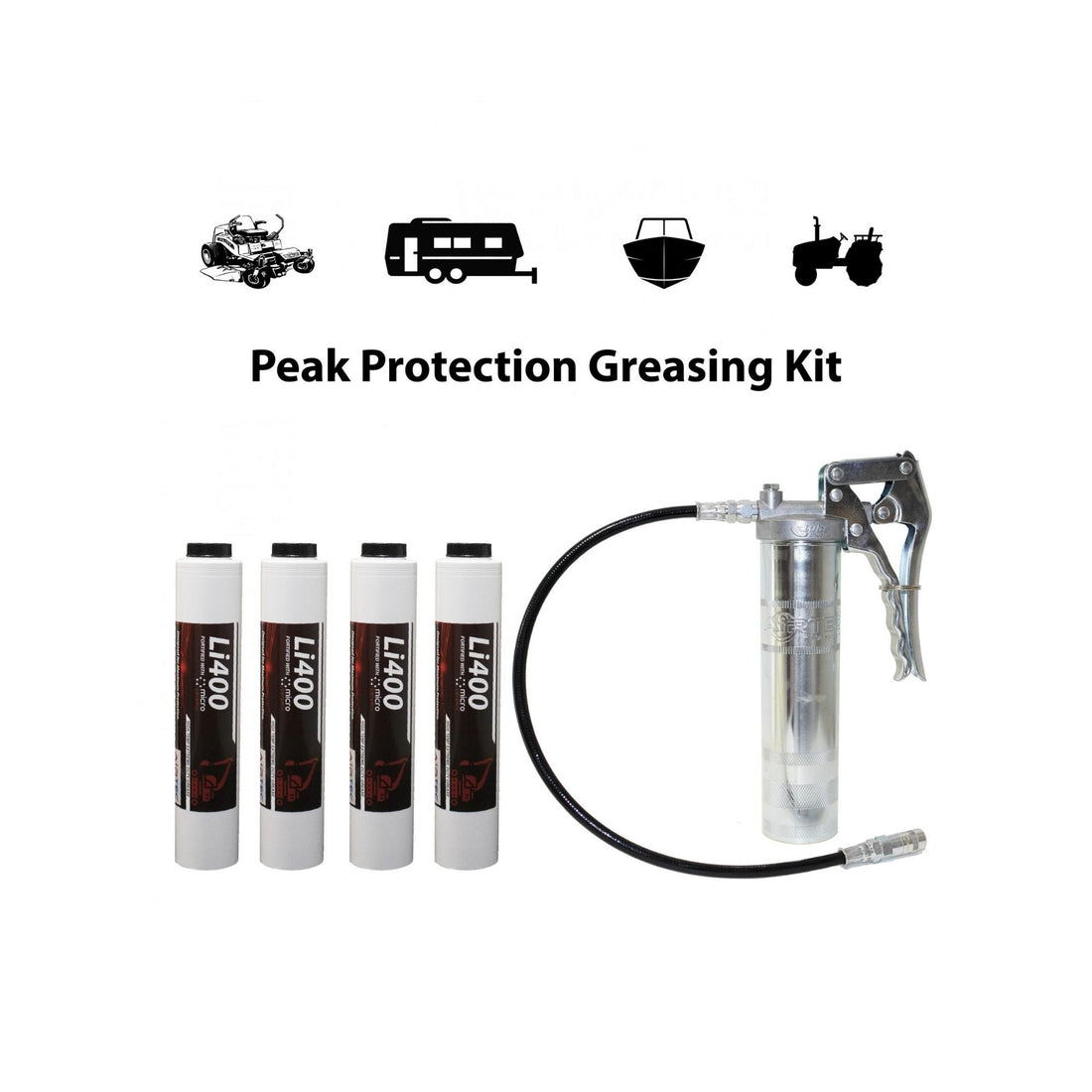 Lube-Shuttle®: Peak Protection Greasing Kit
The Peak Protection Kit is specifically designed to provide the best protection across a wide variety of applications. The AirTec Li400 grease included in this kit is designed to handle all applications ---- fresh and saltwater boat trailers, travel trailers, RVs, compact tractors, and heavy construction equipment.
The micro-ceramic additive package in AirTec Li400 is specifically and uniquely designed to handle extremely high temperatures and pressures in both low and high-speed bearings. Li400 eliminates the need to stock different greases as it is such a high-performing grease. 
The Lube-Shuttle® No-Mess Greasing Package Includes:

Lube Shuttle® Pistol Grip Grease Gun: One hand (Pistol Grip) Air-Tec Lube-Shuttle® Grease Guns are made of the highest quality steel tubes with corrosion-resistant zinc plating designed for Lube-Shuttle® System-Cartridges and feature an ergonomically designed pistol grip. This is the lightest and cleanest greasing system available, and yet its durability is sure to meet your highest standards! Pressure capability of approx. 300 bar / 4,350 psi
500mm High-Pressure Hose
4 Tubes of AirTec Li400 Multi-Purpose Grease: AirTec Li400 is the flagship grease of AirTec and is the highest performing grease of our product line.   This top-performing grease utilizes a next-generation micro-ceramic additive that provides lubrication and wear protection under the most extreme conditions.   Great for wet applications and extremely high-temperature/high-pressure applications.